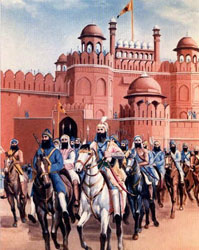 DELHI LAL KILA 1999
On the tercentenary of the birth of the Khalsa Panth, Sant Baba Mann Singh Ji held a huge Kirtan Darbar at Delhi, in the previous castle of Aurangzeb at Lal kila. The program saw millions of sangat arriving at the program with full faith for the Khalsa panth. The kirtan darbar ran through out the day with various kirtanees performing astonishing kirtan. Baba Ji planned to organise the baptism of 100,000 people across Punjab on May 31. Infact with the immense Kirpa of Sri Guru Granth Sahib Ji the operation witnessed 135,000 people take amrit in one day.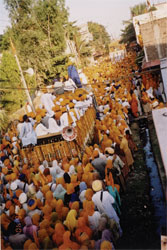 The baptism process took pace simultaneously at 11 different places in the state, including Tarn Taran, Faridkot, Mansa, Lalru, Kharar, Moga, Patran, Nawanshahr, Maachhiwara and Gurdwara Neem Sahib Ji. An Ardaas was carried out by Baba Ji to get blessing from Guru Ji in undertaking the huge program on behalf of the Khalsa panth.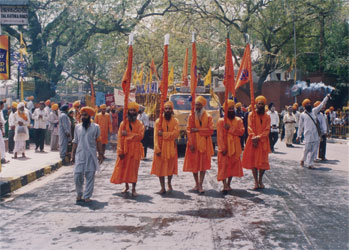 Baba Ji further stated on that day that a heart hospital for unemployed and poor would be set up at a place where it would be easy for the people from Punjab, Haryana and Himachal to approach. The hospital was completed by April 13, 2000, and free treatment is today provided for the helpless.