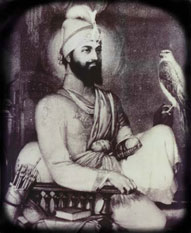 Sri Guru Gobind Singh Ji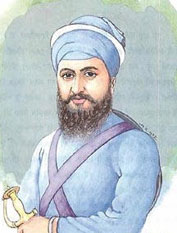 Bhai Daya Singh Ji
The first of the five 'loved-ones' of Guru Gobind Singh Ji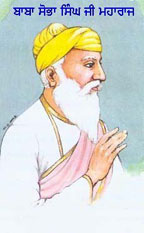 Sant Baba Sobha Singh Ji (Anandpur Sahib Wale)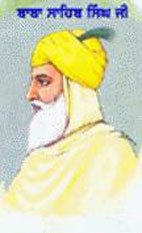 Sant Baba Sahib Singh Ji Bedi (Una Sahib Wale)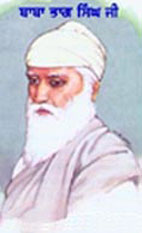 Sant Baba Bhag Singh Ji (Kuri Wale)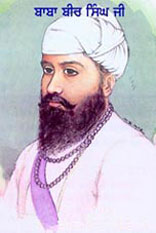 Sant Baba Bir Singh Ji (Naurangabad Wale)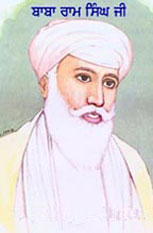 Sant Baba Ram Singh Ji 'Virakt' (Naurangabad Wale)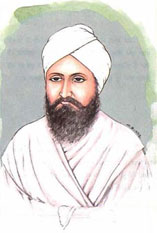 Sant Baba Karam Singh Ji (Hoti Mardan Wale)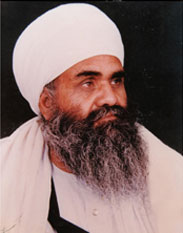 Sant Baba Mann Singh Ji (Pehowa Wale)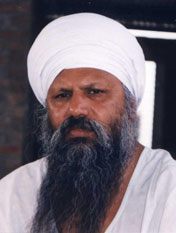 Sant Baba Mohan Singh Ji (Pehowa Wale)
Spiritual Genealogy of this Sant Samprda
Guru Gobind Singh Ji started the Samprda when he handed over this duty to the first of the Five Beloved Ones. Bhai Daya Singh Ji who was the first to offer his head to Guru Ji on the Birth of Khalsa on Vaisakhi of 1699.
Bhai Daya Singh Ji was the first Sikh to be blessed with becoming the Singh (the baptised Sikh) in Sikhism. Wisdom, meditation, karma, dharma, and the path of the divine were the ends, which were met by the Taksal of Bhai Daya Singh Ji. Guru Gobind Singh Ji himself started the Taksal, which is now serving successfully in India and around the world.
Sant Baba Mann Singh Ji Pehowa Wale is now serving and leading the Taksal, in its mission across the whole world. Baba Ji is spending his whole life for
"KIRTAN"
and
"NAAM SIMRAN"
. He is visiting all over the world for Guru Nanak Dev Ji's mission
"Aap Japo Avra Naam Jepaavo"
.
Click to view
BHAI DAYA SINGH JI