Sewa in Kanore (Year 2004)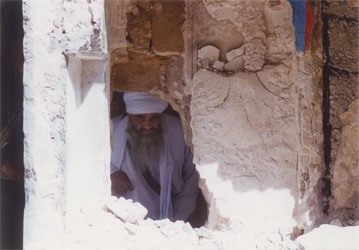 During the late months of 2004, floods destroyed a major part of the area Kanore in India. Houses in over 80 villages were destroyed and people were left with no food and not even shelter to aid their families. All forms of earning were set aside as the flood had become an enormous barrier to face. The people of Kanore were facing such an atrocity that it was becoming a burden to live their daily lives. Children were falling ill as the sewage of kanore reached a dangerous level.

Once this news had reached Sant Baba Mann Singh Ji and Sant Baba Mohan Singh Ji, with Dhan Sri Guru Granth Sahib Ji's blessing, Baba Ji decided to once again lead a major operation with regards to aiding the victims of the disaster. The operation held hundreds of sewadars whom felt for the victims and went along with Baba Ji to help support the people in Kanore.

On a daily basis truck loads of food, clothes and shelter were provided to the victims, allowing them to feed their families and gain physical strength. With Guru Ji's blessing 20,000 people in over 80 destroyed villages were being fed daily by the langar which was being prepared on a mass basis. A mass amount of blankets and clothing were given out, to which the deeply effected victims had appreciated greatly. Baba Ji stated the whole programme which lasted and amazing 6 weeks could never have been carried out without the most appreciated blessing of Dhan Dhan Sri Granth Sahib Ji.