Sewa in Orrisa (Year 2001)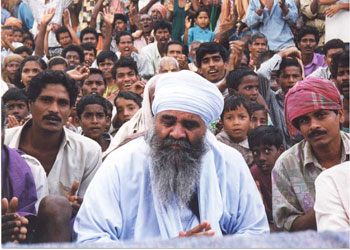 In the year 2001 a major cyclone hit the district of Orissa in India. Thousands of people were killed and hundreds of thousands were left without homes. The cyclone destroyed millions of homes and effectively left the district of Orissa in a terrible state. With the Kirpa of Sri Guru Granth Sahib Ji, Sant Baba Mann Singh Ji fed more than 100,000 people following the Guru ka langar set up there. With Guru Ji'ss kirpa each day saw thousands of new faces eating. Baba Ji set out on a mission to render the orphans left with no family or friends due to the tragedy.
Sewadars from all over the world collected truckloads of langar, which was given out in the district. Dead bodies lying within site carried an upsetting overview with regards to the langar. The state government asked Baba Ji to visit the site before committing himself there. Instead Baba Ji set off with Guru Ji's kirpa and launched the major operation there. On November 14th 2001 more than 100 trucks set off to give out the langar to the homeless people. Once the operation was in force Baba Ji stated
"there was no looking back"
, Sant Baba Mohan Singh Ji led the team who performed the community kitchen despite all odds. As a result of the people in no position to earn their livelihood the langar in total ran for 4 months.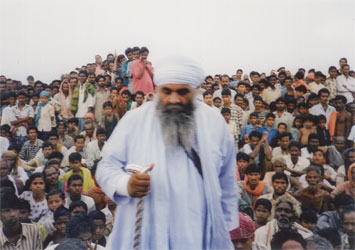 Baba Ji's first priority was to provide food, once this mission was successfully upheld, clothes and linear were provided too. The second phase of the operation saw 100,000 blankets, durees, khes, suits and sarees given out to the homeless people. The final priority of Baba Ji was to take orphan of the tragedy under his fold and educate the people living there. Talks were held with the Orissa government, to celebrate the opening of a special academy in which the cyclone hit citizens were to learn.
Overwhelming support from Baba Ji's followers, witnessed 500 sewadars from all over India who came give charity to the citizens too. The sewadars stated "we have been encouraged by the spirit of social service and care displayed by Sant Baba Mann Singh Ji" so we decided to join the venture too. Baba Ji said,
"Despite all problems, the whole operation was carried out under the blessing of Dhan Sri Guru Granth Sahib Ji"
.