Sewa Shri Anandpur Sahib Ji (April 2007)
With the Kirpa of Sri Guru Granth Sahib Ji, Sant Baba Mann Singh Ji Pehowa Wale alongside the Ruhani Sant Sabha organised a huge Sant Smagam which took place at Takhat Sri Keshgarh Sahib Ji at Sri Anandpur Sahib Ji in April 2007. The Kirtan Darbar lasted 4 days in which hundreds of thousands of members of Sangat from all over India attended. Many Sant Mahapuraks were also present alongside the Jathedars of our 5 Holy Takhats including Jathedar Joginder Singh Vedanti of Sri Akal Takhat Sahib Ji.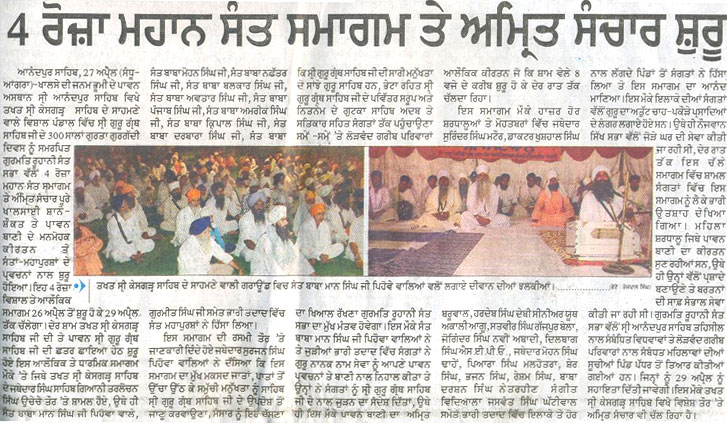 Sant Baba Mann Singh Ji also honoured the widow families residing in 30 villages within the Ropar district. Money, shelter and food was given to aid the needy widow families whom struggle to make ends meet in the poor areas of Punjab.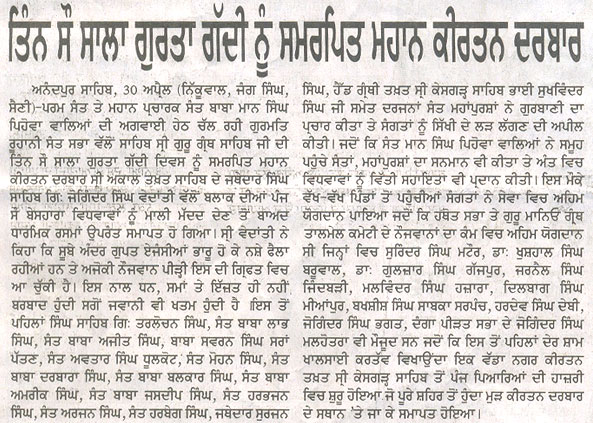 Jathedar Joginder Singh Vedanti, stated the operation organised and carried out by Sant Baba Mann Singh Ji was a great step towards the Parchaar of Sikhi within the Punjab state. He also warned that those people who promoted themselves rather than Sri Guru Granth Sahib were to be kept well aware of as this was against the principles of Sikhism.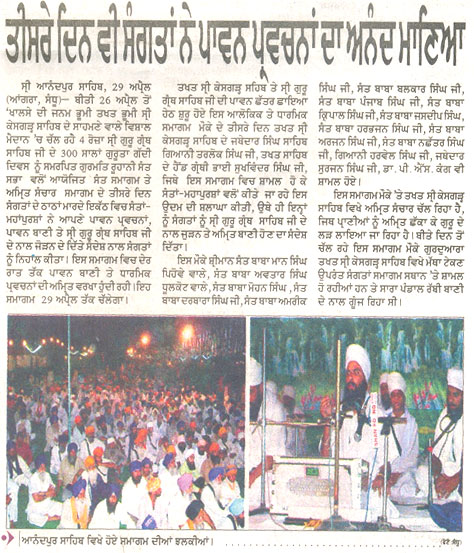 The 5 Jathedars congratulated Sant Baba Mann Singh Ji for organising such a huge programme in aid of spreading the Parchaar of Sri Guru Gobind Singh Ji s Sikhi. They also stated they were ultimately in support of such programmes being carried out in the future and where necessary offered their full support in arranging such Smagams.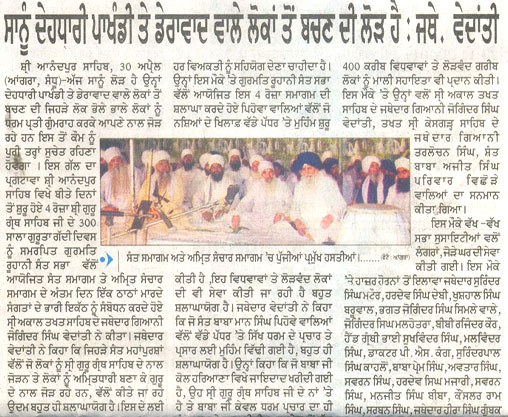 After the 4 day kirtan darbar, which included honouring the widow families residing in Ropar, an Amrit Sanchar was carried out in which many joined Sri Guru Gobind Singh Ji's Khalsa Panth. Baba Ji stated we should carry out an Ardaas each day to beg Dhan Sri Guru Granth Sahib Ji to bless us with Sikhi for lifetimes to come. Baba Ji also stated such programmes to honour other poor families throughout Punjab like the previous one carried out at Sri Fatehgarh Sahib in 2006 would continue to take place leading up to the 2008 celebrations of the Gurgaddi Devas of Sri Guru Granth Sahib Ji.
Baba Ji stressed the Sewa carried out was solely successful due to the Blessing of our eternal Guru Sahib Ji, Dhan Dhan Sri Guru Granth Sahib Ji Maharaj.