Yatra Sri Anandpur Sahib 1999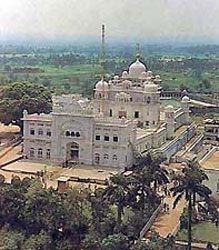 ANANDPUR SAHIB JI 1999
In the year of 1999, Sant Baba Mann Singh Pehowa Wale, and other Sikh leaders, carried out a two day Khalsa march, with fanfare and religious fervour starting from Kila Anandgarh Sahib. The nagar kirtan was undertaken to mark the tercentenary celebrations of the birth of Khalsa. Baba Ji visited Gurdwara Bhora Sahib Ji, Gurdwara Sis Ganj Sahib Ji, Gurdwara Fatehgarh Sahib Ji, Gurdwara Mata Jito Ji and Takht Sri Kesgarh Sahib Ji to pay obeisance before starting the Khalsa march. On route, the sangat alongside Baba Ji visited Gurdwara Parivar Vichhorra Sahib Ji, where family members of the Guru Gobind Singh Ji separated from him.

As Baba Ji and the Sangat walked together on the sacred hills of Anandpur Sahib Ji they touched the spirit and soul of those who were there 300 years ago feeling the powerful presence of Guru Gobind Singh Ji every moment of every day. Baba Ji and the sangat celebrated the rebirth of our spirit as our panth proudly carried the banner of Khalsa chanting together in celebration, joy and gratitude for the entire Panth.

An attractive band of Nihang Singhs on horses, Sikhs carrying Nishan Sahib Ji's, and a large number of people wearing saffron suits, dupattasand turbans joined the march. A 'diwan' was also organised at a tastefully decorated stage in Kila Anandgarh Sahib Ji, where various Sants performed kirtan throughout the whole night. With Guru Ji's kirpa, Baba Ji carried out kirtan whilst the sangat was in entire bliss. Baba Ji stated the day, was the same day on which Guru Gobind Singh Ji left Kila Anandgarh Sahib and his family members were separated from him. He congratulated the Sikhs for maintaining the unity of the Panth.

Baba Ji called upon the Sikhs to be baptised and adopt the path of Khalsa. He said this message should be spread to each village and house for celebrating the tercentenary in the true sense. Baba Ji also stated that there was a dire need to remain united for fighting against the repression and atrocities.

The message Baba Ji aimed to portray was that the Panth should remain united for the prosperity of the Sikh community. For this purpose, he said "we should not hesitate to make any type of sacrifice for our Guru". This historical event had a powerful global impact, inspiring people all around the world with the values and love of Khalsa. The yatra was in celebration of the rebirth of our spirit so that our children will continue to carry this banner of Khalsa to all four corners of the world. The event may have had a global impact to educate all people around the world on the values and love of Khalsa.