Yatra Sri hazoor Sahib 2001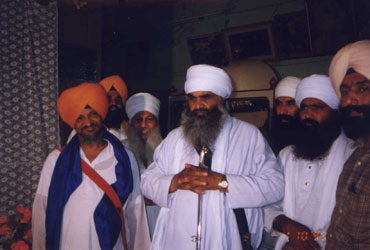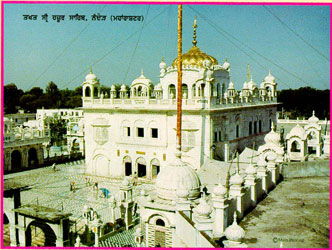 With the blessing of Guru Sahib Ji, in the year 2001 Sant Baba Mann Singh Ji alongside 200 members of sangat from all around the world paid tribute in a Yatra to Sachkand Sri Hazur Sahib Ji. The aim of the yatra was to enforce the message Guru Gobind Singh Ji left behind on his departure for heavenly abode in 1708.
Agya Bhai Akal ki tabhi chalayo Panth,
Sab Sikhan ko hukam hai Guru manyo Granth.
Guru Granth Ji Manyo pargat Guran ki deh
Jo Prabhu ko milna chahe khoj sabad men leh Raj karega Khalsa aaki rahe na koe,
Khawar hoe sabh milainge bacheh sharan jo hoe.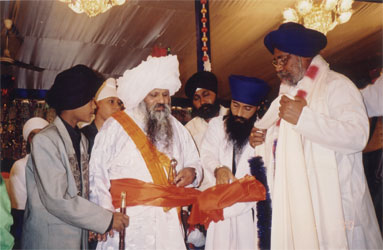 The initial journey lasted 2 days in which all members of sangat enjoyed participating. The Gurdwara Sahib is located at the place where Guru Gobind Ji Singh ended his sojourn on October 7th, 1708. Bhai Daya Singh Ji, origin of the Taksal is said to have left for heavenly abode from this place. Baba Ji performed kirtan and explained the detail in which Guru Gobind Singh Ji ended the physical Guruship before his departure from this world, passing on the permanent Guruship to Sri Guru Granth Sahib Ji. Guru Ji declared that the Five Beloveds would perform the temporal functions of the Guru. The spiritual guidance was to be given by Sri Guru Granth Sahib Ji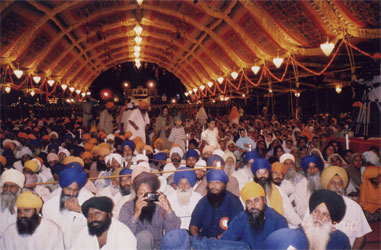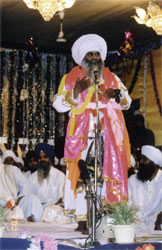 During the journey Baba Ji, also visited several other Gurudwaras. The programme included tribute to Gurdwara Shikar Ghat Ji, Gurdwara Hira Ghat Ji and Gurdwara Nagina Ghat Ji. At each Gurdwara Baba Ji informed the sangat of previous occurrences which had taken place at the time of Guru Ji's stance.